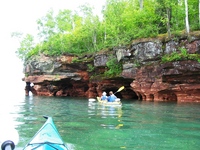 I paddled the Apostle Islands National Lakeshore last week with my good friends, Darren and Jesse. What an amazing place! Several local paddlers recommended that I visit the Apostle Islands, but I had no idea how incredible it would be.
On the first morning we rented sea kayaks and took a safety course from a local outfitter. After a shuttle to to Little Sandy Bay, we paddled out into Lake Superior. Paddling on the largest lake in the world (by surface area) was intimidating at first. Thankfully, we had low winds and sunny weather to ease our fears.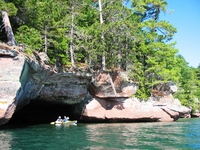 Our first destination was Sand Island, which is notable for its sea caves, lighthouse, and old-growth trees. The calm weather allowed us to spend a lot of time exploring the caves. The lighthouse was picturesque from the water as we rounded the point. Our campsite was in Lighthouse Bay on a secluded, tropical-looking beach. After setting up camp, we hiked up the beach for a visit to the lighthouse and the old-growth stand.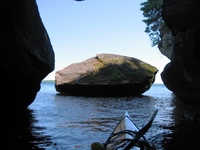 On the second day we paddled about 10 miles from Sand to Oak, stopping at York for lunch. We faced relatively high winds and choppy waves at first, but the weather eventually calmed and we strategically paddled on the leeward sides of the islands. We covered the 10 miles quickly–much faster than hiking the same distance–and arrived at Oak for a two-night stay. We chose to take a layover day at Oak because it offered inland hiking, including a trail up the highest point in the islands.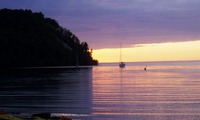 On our first night at Oak, we shared the bay with two sailboats seeking refuge from southwesterly winds. The crew from one of the sailboats came ashore in their dinghy to check out the trailhead originating from our campsite. They were very nice folks from the Twin Cities, and they invited us out to see their sailboat. I took them up on their offer and paddled the solo kayak out to their boat to watch the sunset.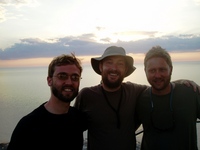 We woke up to beautiful weather again on the third day. We explored the beach, took turns paddling the solo kayak out to some rock formations on the northeastern corner of Oak, and hiked about two miles to the high overlook. From above, Lake Superior looked even bigger–much too big for kayaks. Another highlight from day three… practicing my kayak roll that I learned while attending Maryville College.
We packed up early on the fourth and last day and headed back to the outfitter where our car was parked. Our next stop was Duluth and Fitger's Brewhouse for food and a celebratory beer. My friends really liked western region of Lake Supeior, as well as Minneapolis. I hope they'll return for another adventure soon.