Sometimes I enjoy seeing architecture and other human artifacts from the river's vantage point as much as I like experiencing nature. Garbage and pollution are major exceptions.
The Mississippi River offers a great mix of nature and civilization as it flows through Minneapolis toward Saint Paul: bald eagles flying near skyscrapers, blue herons fishing from the dams, geese wading under bridges, and trees clinging to public beaches.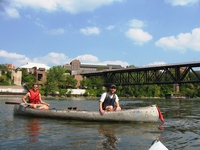 My friend, Chris Desjardins, a veteran of the Mississippi River Challenge, guided us down the urban route from Boom Island Park to Hidden Falls Park. The photo at right shows us paddling past the Education Sciences Building where our offices are located.
We hoped to make it to the backwaters near the Minnesota River confluence, but it took too long to navigate the locks with so many boats on the river for Labor Day. I plan on putting in at Hidden Falls for my next urban trip.