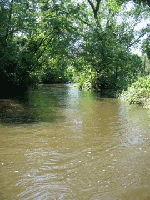 Chris Desjardins and I took another urban canoe trip yesterday. We originally planned to pick up where we left off last time, at Hidden Falls in Saint Paul, but we chose a different route to take advantage of recent rains that had swollen Minnehaha Creek and to try out my Wike Woody Wagon Canoe Trailer.
We left from Cedar Lake where my canoe, Scrappy, resides on a rack rented from the City of Minneapolis. After loading my bike, we paddled through Lake of the Isles to Lake Calhoun, portaged to Lake Harriet, and then portaged over to Minnehaha Creek. The creek was so high that we had to portage around or duck under several bridges. We used the bike trailer for the longer portages before the creek, and after reaching Minnehaha Falls, I transported Scrappy all the way back to Cedar Lake by bike. Click here for a map of our canoe route.
The entire trip took about seven hours, not counting a stop for dinner at Sea Salt Eatery. My bike took a beating from trees and a wall along the creek, the Wike trailer didn't perform as well as I had hoped, and I'm still exhausted the next day, but I thoroughly enjoyed the Cedar-Minnehaha-Cedar loop. I especially got a kick out of people's reactions to Scrappy hitched to my bike.