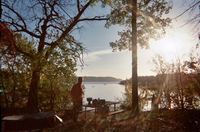 Amy and I celebrated our eighth anniversary with a trip to southeastern Minnesota. The forecast called for warm and sunny weather, so we decided to camp and canoe. We wanted to camp at Frontenac State Park to get some more mileage out of our state park pass, but the fall colors and warm weather helped fill up Frontenac's campground. One of the park rangers recommended Hok-Si-La Campground in Lake City. It was a fantastic campground with well-kept facilities and campsites right on Lake Pepin's shore. During breakfast in our campsite we saw several species of birds, including a bald eagle and a downy woodpecker.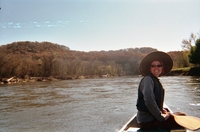 For our canoe trip, we chose a section of the Zumbro River from Theillman to river mile 13 near Dumfries. We chose that route because much of it is protected as part of the Richard J. Dorer Memorial Hardwood State Forest. Riverland Outfitters shuttled us to the put-in. A month before our trip, flooding devastated towns along the Zumbro River. Although the waters had receded well below flood stage, the river was still running at a brisk pace. It took us about six hours to cover 13 river miles on the Buffalo and Nemadji Rivers, but it only took about three hours on the Zumbro. We enjoyed the views of the hillsides and farms, the sand bars, and dodging all the submerged trees in the river. According to Paddling Minnesota, the Zumbro derives its name from the French pronunciation of "embarrassment" caused by the river's obstacles.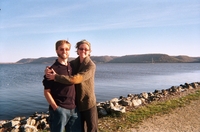 After getting off the water, we walked around downtown Wabasha before heading across the river to Pepin, Wisconsin, for an anniversary dinner at the Harbor View Cafe. The cafe was hopping. It took about two hours to get a table. We didn't mind because it gave us a chance to walk around the harbor and listen to some live jazz and folk music outside the pub next door. Harbor View Cafe was overpriced for the quality of the food and service, but the overall experience of visiting and dining in Pepin made it worthwhile. The great company and occasion made for a memorable experience.