Amy and I took a fantastic day trip down the Nemadji River near Duluth. The north fork of the Nemadji River valley is wild and undeveloped compared to its sister river, the Saint Louis.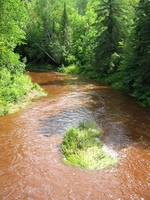 We camped the night before at Jay Cooke State Park, dropped our canoe off at the put-in on state highway 23 in Minnesota, drove our car to the take-out on county highway W in Wisconsin, and then took a taxi back to the put-in.
The river was running at about 300 cubic feet per second (cfs), which is about the minimum for an enjoyable trip and only occurs after significant rainfall. The Nemadji carries a large amount of clay sediment, making the water red and obscuring "widow-maker" rocks just below the surface.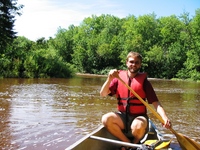 We saw no signs of human life along the river, except for few deer stands and a couple pieces of trash. We did, however, see several mergansers, two blue herons, a hawk, and several beaver chews.
I highly recommend a trip down the north fork of the Nemadji, if you can time the river level and are willing to arrange a shuttle.